In 2016, Taylor County SWCD began a 3-year Water Quality Initiative project unlike any other in the state.  Following the Iowa Nutrient Reduction Strategy, Taylor County is focusing on their landscape and how growers can fully utilize the land they farm. The rolling hills, multiple soil types within a single field, gullies, and thin soils on side hills have all been known to lower yields and crop production for the main commodity crops, corn and soybeans in the county.  Not all farm ground is created equal and should not be farmed the same. Knowing this, the SWCD Commissioners have decided to take matters in their own hands and deliver alternatives to their growers.
Partnering with EFC Systems and their web-based Profit Zone Manager (PZM) tool, producers can virtually see where working capital can be reallocated to maximize ROI and make more profitable and sustainable land management decisions. In other words, using this tool, producers can create and compare scenarios on their fields to determine which practices, rotations, or land management changes maximizes their ROI.
"Farm the best, Regenerate the rest" is a message that fits this project to a "T".  The goal of the Taylor County WQI project is to seed down marginal crop acres that have historically been unproductive and unprofitable to ultimately farm only "the best".   To do so, the SWCD is offering financial incentives to help make land management changes on marginal acres.   The two practices currently offered are "Crop to Hay or Pasture" and "Summer Fall Grazer".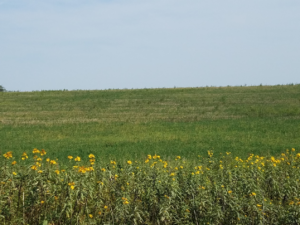 The Summer Fall Grazer is offered at $80/ac with 20 acres maximum per year and will encourage a third crop and livestock grazing.  Incorporating small grains, summer seeding with fall grazing mix, and cover crops through a 3-year rotation will provide another alternative for growers. With this 3-year option, growers can still farm their cash crops while providing cover and grazing to help reduce soil and nutrient loss. An example of this rotation is the following:
Fall 2018:         Small Grain Crop: Wheat, Rye, Triticale (Hay or Combine)
Must overwinter, leave as much straw for soil health purposes
Summer 2019: Diverse Summer/Fall Grazer
Graze—not hay
Some of the mix should overwinter
Spring 2020:    Plant cash crop
Fall 2020:         Cover Crop must overwinter
Spring 2021:    Plant cash crop
To help strengthen the importance of cover crops and a small grain crop, participants complete a spreadsheet based on their own expenses and inputs to compare this WQI rotation to their traditional corn-bean rotation. Along with the PZM tool, the goal is for producers to recognize the economic and environmental benefit of having a diverse crop rotation while providing additional forage for their livestock operations.
Example Summer/Fall Grazer mix planted after small grain harvest:
Legumes: crimson clover (cool season), cowpeas (warm season), sunn hemp (ws)
Grasses: oats (cs), triticale (cs)forage sorghum(ws)pearl millet(ws)
Brassicas: radish (cs), forage collards, (cs)
Broadleaves: buckwheat (ws), sunflower (ws)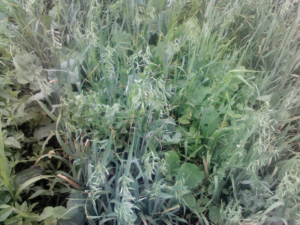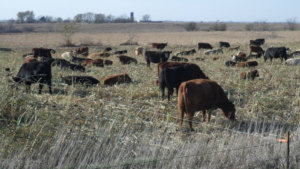 For the last 3 years, over 1,500 acres and 125 fields have been part of the Taylor County WQI project. More than 80 producers have utilized PZM and more than 60 producers have made positive land management changes. As this project moves forward for another 3 years, Taylor County SWCD will continue helping growers consider alternatives to farming marginal acres.